Dunne & Crescenzi
WHAT: Dunne & Crescenzi
WHERE: 14-16 Frederick St. South, Dublin, Ireland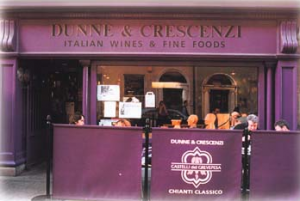 Eileen Dunne and Stefano Crescenzi moved to Dublin from Rome in 1995. Four years later Dunne & Crescenzi came to life, starting with a small shop in Sutton and expanding to two restaurants in Dublin City Centre and another in Sandymount Village. There is much that distinguishes D&C, from their welcoming Italian atmosphere to their selection of more than 130 wines and their equally expansive menu composed of the finest and freshest of ingredients. We had the amazing opportunity to step through D&C's doors and experience real Italy, and we hope we can convince you to do the same.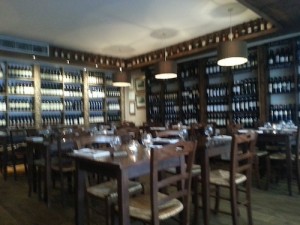 Adam: Dunne & Crescenzi exudes Italian character: traditional, familial and warm, one cannot help but feel you've been whisked off the streets of Dublin to a fine Roman style restaurant. Hundreds of bottles line the walls, encapsulating you in a viticultural haven, which couldn't be further from the gloom that sometimes pervades the streets on a rainy night.
Immediately seated in a perfect spot peering out onto the street, our affable and attentive waiter Dominico began my meal with the bruschetta con pate' di pomodori secchi, caprino e peperoni. Two hefty pieces of bruschetta come topped with chunky sundried tomato pesto, warm goats' cheese and wonderfully fresh peppers. The whole dish is lovingly dressed with just the right amount of olive oil, while the freshness of the ingredients was apparent. Too often I've seen bruschetta swimming in olive oil, but that was not at all the case here – perhaps the best bruschetta I've ever tasted!
I then moved onto my main course: ravioli con funghi e tartufo con fonduta di Grana Trentino dop. This ravioli is filled to bursting with amazingly flavourful mushrooms and truffles. In fact, the filling seems to be a wonderful combination of mushroom chunks and truffle paste. Dressed with more fabulously decadent truffle oil, again the balance was correctly struck and I was most impressed by this immensely flavorsome pasta. Interestingly, ravioli is in fact of the oldest Italian pastas, originating in 1300s Tuscany where it was mentioned by the merchant Francesco di Marco – obviously, he thought it was worth something!
I accompanied this with a side of patate di Wicklow arrosto al profumo di rosmarino, considering that I was in Ireland. These roasted baby potatoes are herby and full-flavoured, the rosemary in which they are enveloped creating a beautifully aromatic sensation upon the palate. A definite must.
Finally, I finished dinner with the macedonia con biscotti, an extremely fresh fruit salad complete with biscotti. A heaping portion of fruit served in a healthy orange based sauce included bananas, strawberries, blueberries and pears. But when it comes down to it I was most impressed with the biscotti – did you know there was more than one type? Chocolate, almond, traditional and hazelnut created a quartet of different textures: dark chocolate mingled with harder, traditional almond, while hazelnut had a softer feel, unlike most biscottis you'll try elsewhere.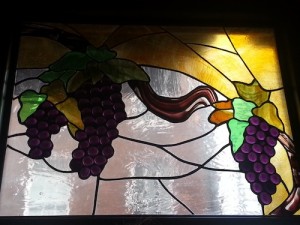 But what marks D&C out most are its friendly and warm customers. The couple we sat next to even offered us their wine! With warmth like that and food that is beyond compare, Dunne & Crescenzi is a definite Do It for both Dublin and Ireland itself.
Alicia: At Dunne & Crescenzi, there is absolutely no way you'll go home hungry. The plates are gigantic and the food rich and delicious. After glancing at page after page of menu options, you may be at a loss of what to select from the what's on offer, but the staff at D&C are more than willing to help you and give you a great suggestion.
In addition to the bruschetta, we decided on the Antipasto Misto, with a selection of Villani Emilia Romagna charcuterie, chargrilled vegetables including zucchini and artichokes, and garnished with Tuscan pecorino cheese. Oh, and of course served with warm bread. The charcuterie plate offered a welcome plethora of nibbles, our favorite being the marinated artichokes, which had a perfect texture and a well-balanced flavor.
Knowing I would have a huge meal before my main course, I thought I would try to select something a little bit lighter for my main. Being a fish lover, I ordered the nasello con crema di ceci profumata al rosmarino (or, fresh hake with chickpea puree, perfumed with rosemary). While the hake was a little too subtle in flavor for me despite the rosemary (although beautifully cooked I might add), the chickpeas were delicious, with toasted chickpeas dotting throughout the puree and offering a very complex mixture of flavors as well as adding the perfect crunch.
But that's not all folks. My main came with not only a side of oven baked vegetables (your usual baby potatoes, peppers and carrots, as well as the unique additions of parsnips and sweet potatoes), but a salad as well. And not just any side salad, but a gigantic plate of insalata mista – mixed leaves and tomato dressed with olive oil and balsamic vinegar from Modena. Need I have to clarify I definitely DID NOT finish all of this food in one go?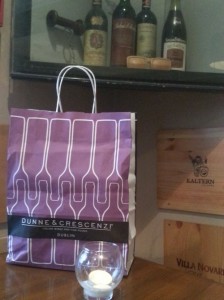 Final Thoughts: When you visit Dublin, your first thought might not be Italian food. But when you've had enough of Irish stew and Guinness, your first stop should definitely be D&C. From the welcoming atmosphere to the amazing service, and not to mention deliciously authentic Italian cuisine by the truckload and their wide selections of wine-by-the-glass, Dunne & Crescenzi is the perfect night out for anyone in the city, natives and tourists alike.