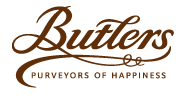 WHAT: Butlers Chocolate Cafe
WHERE: 24 Wicklow St., Dublin 2, Ireland
OUR RATING: Chance It!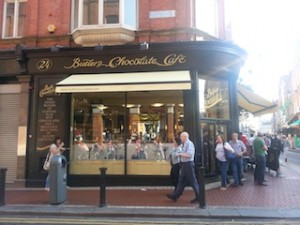 Ireland and chocolate. Okay, we admit that this isn't the most known pairing of country and perishable good, but Butlers Chocolates proves that Ireland not only knows chocolate, but really gets it. We stopped by their flagship cafe in Dublin last week, and by the end of our stay we were practically rolling out the doors full of chocolatey goodness.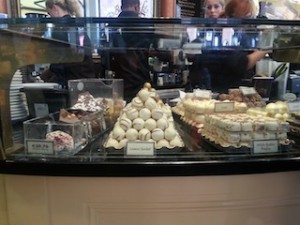 Adam: Butlers Chocolates is a truly all-Ireland company. Dating back to 1932, when Marion Bailey-Butler (no relation to the Baileys of Baileys, who are actually a fictional entity of 1970s marketing) created an intricate range of handmade chocolates on Lad Lane in Dublin. Marion happily churned out her own chocolates until 1959, when she sold the company to Seamus Sorenson (whose name perfectly combines the capital's Irish and Viking histories). The company did not have a retail store until 1989, when it opened a shop on Grafton Street. Since then, chocolate shops have sprung up across Ireland, the UK and the world (we were surprised to hear the newest addition to the collection was in the United Arab Emirates). The first chocolate cafe, and the one we are reviewing, opened on Wicklow Street 1998.
Butlers Chocolates are a far cry from their 1400 BCE Mesoamerican antecedents (smoked or as a nutritious drink), but they capture the European adaption of chocolate in a most marvelous way. I started with the Milk Chocolate Soft Caramel, which had a lush and full flavour that didn't leave you begging for milk – a very good taste! While I knew that I was supposed be tasting salt also, it seemed undetectable to me, but that didn't detract from my caramel treat.
Next up was the beautifully composed White Butter Praline, of milk chocolate with praline pieces embedded deep within it. I always think the classification of a nut as praline interesting, considering there is no one praline nut, and it more refers to a combination of different nuts ground together. Perhaps most interesting about this chocolate was the silkiness of the white variety. After consuming heavier chocolates it's nice to have a break and sample something altogether more simple.
Finally, for the chocolates, I devoured our favorite dark chocolate and raspberry (with a dark chocolate shell, a thin layer of raspberry and a lovely chocolate cream) and a wonderfully rich Milk Chocolate Hazelnut Truffle Log. The texturised contrast in this last chocolate between the crunchy hazelnuts and the Gallic truffle was a feast for the mouth. In fact, there is something decidedly Celtic about any truffle with hazelnuts in it: the first varieties of this nut were cultivated in Scotland and Ireland over 9000 years ago.
Aside from the chocolates themselves, I was also served up a deliciously authentic dark hot chocolate. But Butlers hot chocolate is not made from your average cocoa powder and a heaping tablespoon of sugar – this is the real deal. In the most venerable tradition of the Maya, Butlers melt their dark chocolate directly into the drink, meaning that you get no nasty preservatives or artificial flavouring. The result is simple and strong – a blast of bitingly dark chocolate that would revive the most weary traveller.
But, what meal would not be complete without a brownie. Now, this being Ireland, I half-expected a spritely little fellow to appear on my plate and offer me some mischief, but then I remembered Brownies are actually from Scotland and Northern England and my fear was alleviated. Unfortunately, Butlers brownie was slightly, well, normal – nothing much to write home about. Quite a solid brownie, but no different to what I've had elsewhere. Rule of thumb: stick to the simple stuff – truffles and hot chocolate – and you can't go wrong at Butlers.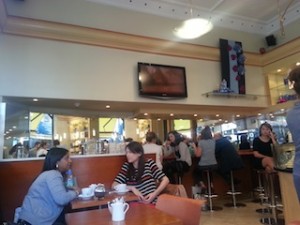 Alicia: Luxurious. Decadent. These are the two words I associate with Butlers. As you walk into their flagship store, one immediately gravitates to the mirrored bar-like area, a unique and chic take on a chocolate shop. There are colours of gold, dark brown and black, there are elegant lights, and the shop attendants are classy and professional. While you can purchase boxed chocolate on their merchandise wall, or pay a quick trip to the till and have a bit of chocolate/coffee take-out, this store welcomes patrons to sit down and relax, and fully experience indulgence.
In addition to the chocolates Adam mentioned, we also sampled four other truffles and chocolates from Butlers during our trip. My favorite of this batch was a milk chocolate with a butterscotch filling, perhaps one of the most unique chocolates my tastebuds have ever encountered. The center was creamy, subtle and rich all at once. Next followed a dark chocolate truffle with 70% cocoa solids. Beautiful creaminess paired with a delicate dark chocolate shell, there was bliss in its simplicity. The final two on the docket, an almond cafe (creamy almond praline and coffee centre, covered in white chocolate and topped with a coffee bean) and a mocha chocolate, while not as impressive as the others, were appreciated for their masterful layers.
But let me tell you, all of this chocolate makes one extremely thirsty. Yes, we could have washed it all down with some water, or even a little milk, but we decided to make the most of our stay and sampled their iced caramel macchiato and their latte. The macchiato was a great addition to our little meal, as it offered a refreshing and light take on such a rich-sounding drink. The caramel and coffee were evenly balanced, and the texture of the drink was top-notch with the addition of caramel ice cream.
And the latte, well, the baristas at Butlers are true artisans. They are extremely proud of their craft and attempt to serve all of their products up to perfection. We almost didn't want to dig into the warm and creamy drink out of fear of ruining the artistry…but in the end the desires of our tastebuds outweighed those of our eyes, and we enjoyed the steaming hot latte.
Like Adam suggested, stick with the chocolates. We had the opportunity to taste Butler's white chocolate and raspberry muffin. While moist and speckled with fresh fruit, we would probably choose to save our stomachs next time and skip the baked goods.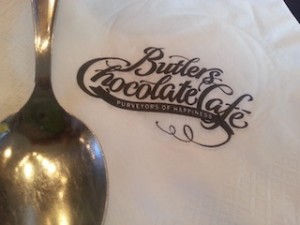 Final Thoughts: If you've traveled to the US, you've probably visited, or at least heard of, chocolate shops/cafes like Ghirardelli's. In this respect, Butlers Chocolates isn't the most unique of concepts globally, while it seems to be in Dublin. It sure isn't your mom and pop sweet shop. And while we appreciated the relaxed atmosphere of their cafe, our visits to their other locations informed us that most of their shops are mostly set up for take-out and boxed purchases. Ultimately, if you're in the mood for some chocolate indulgence, take a chance with Butlers. It's not hard…they're everywhere in Dublin!
P.S. Although we didn't experience these for ourselves, Butlers also offers two unique excursions for chocolate lovers. You can either tour their chocolate factory (called the "Chocolate Experience") or even join them for cooking classes where you cook with (you guessed it!) chocolate!