WHAT: Glass
WHERE: Uhlandstraße 195, 10623 Berlin, Germany
OUR RATING: Do It!
A single elegant note graces you upon sitting at one of the stylish black tables, its white sheen reflected in the beautiful glass candle-holders, the themed glassware and, of course, the statement piece glass mirror in the center of the space, a rippling of metallic silver creating an organic and natural vibe to this comfortably trendy atmosphere, complete with exposed industrial chic ceiling. The envelope simply states:
"No pleasure is temporary, because of the impression it leaves behind is permanent." – Johann Wolfgang von Goethe 1749-1832
And so our journey of pleasure and sensations began in a glass cube brightly nestled in the southeast of Charlottenburg.
Adam: To dine at Glass is to be immersed in the art of food. Berlin itself, so entrenched in history, has embraced art as an intrinsic part of its 21st-century identity, whether that art is visual, performance, alternative or, in this case, culinary. Playful, modern and trendy, Glass is the perfect location for that special Berlin meal that encapsulates this city's imaginative spirit and bright international future. Offering both a regular and vegan menu of 6-8 courses, Glass provides a leisurely and unforgettable dining experience.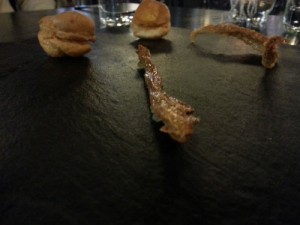 Our multi-course extravaganza began with a decoratively plated canapé of gougères and yuba upon a square of slate. The gougères of baked choux pastry and delectable cheese combined the sensations of brittle crunch and airy fluff, while the cheese added a warm comforting centre. Yuba is a traditional name for tofu skins, each a spindly crisp in a whimsical shape. This perfect introduction to the dining experience made us eager to proceed and discover what other delights awaited us.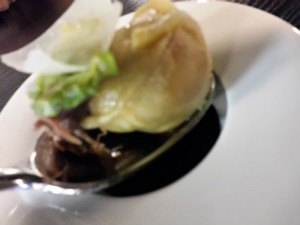 As the empty slate was whisked away, a spoon of veal cheek appeared, served upon a porcelain ringlet. Enjoyed best in one bite, a burst of flavour met my palate: cream and parmesan encased in a ravioli that allowed one to experience the dish in a meaningful way.
My next course consisted of veal tartare and artichoke with olive oil and cognac. With perfect juxtaposition of salt and sweet, the fine cut veal was enjoyable in easy mouthfuls, its line presentation across the plate encouraging one to read the food from left to right. Next up was the onion soup, a real treat: deconstructed with brioche and comté cheese, the soup did not overwhelm the baked elements, allowing for their integrity to be maintained. The shallots, central to the dish, were sweet with hints of vinegar, whilst the puree of soup itself was perfect – not too creamy. A modern spin on an ancient classic.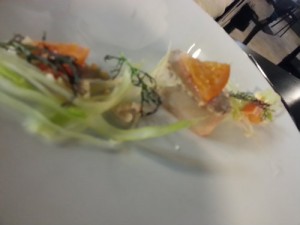 I have always been rather hesitant about foie gras, the next tasting phase on the Glass menu. It can be sourced so as to be incredibly fatty and then there is the issue of how the birds producing it are being treated. Neither of these are issues at Glass, whose humanely sourced, blood orange infused delicacy can be spread upon the provided toasts with ease. Fennel and hazelnuts provide added texture, whilst full blood orange slices give a nicely contrasting sweet and bitterness of fruit and rind. A mellow and delicious dish.
My main course, however, was one of the most creative and thoughtful plates I've ever eaten. 30-Days "Dry Aged" Black Angus Rumpsteak in Tokyo-style demonstrated a beautiful fusion of cultures. Think American steakhouse meets Japanese virtuosity and you'll start to understand. With juicy flavour seared into this perfect cut, Asian-style jus and brittle pickled vegetables, this steak is a veritable playground for the senses. Sophisticated, adventurous and highly recommended.
I accompanied this meal with the Hahn Riesling / Weingut Toni Jost (2012), a beautifully subtle and refined compliment to a delicious, exciting and memorable experience.
Alicia: Glass is a fascinating venue offering guests a beautiful experience touching each of the senses, and is much like a walk through a modern art gallery, yet with a much more inviting and comfortable atmosphere. The menu is evocative, inviting you in but keeping you in suspense, anticipating each dish and keeping you wanting more after the last mouthful passes your lips.
The oyster began my sensual journey through the looking-glass, fresh shellfish accompanied with flavours of beetroot, lavender and passionfruit. For Chef Gal Ben-Moshe, this dish is inspired by the sultry experience of a kiss. The taste and textual confusion of lipstick and passion summed up in this melange of vivid colours and intense sensations.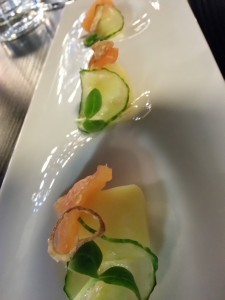 The next dish, the Müritz-Trout packed a less powerful punch than the rest of the menu, but I appreciated it's subtle nature and playful textures. A fresh piece of raw trout sat atop a lightly pickled cucumber and ratte potato, along with a smear of horseradish and a delicate shaving of fried onion. The nutty ratte with its smooth and almost buttery texture played against the crunchy onion and the silky fish. My wine for the night, the Von der Fels Riesling / Weingut Keller (2012) paired wonderfully with this dish, especially with its notes of peaches, apples and grapefruit.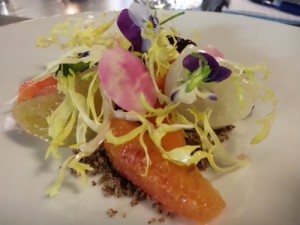 Glass's Stadtgarten has quite a loyal following, inspired by the gardens at Tempelhof Field, and perhaps the most beautifully illustrated dish of the night with a variety of colourful vegetables, fresh flowers and even pumpernickel-edible earth. The peppery flowers added a liquorice-like punch to the salty/sweet earth, the gently acidic blood oranges and the earthy and buttery vegetables. This dish was quite an adventure, but still reflected a bit of comfort as if one was roaming through their small garden, tasting the freshly picked products of Mother Nature.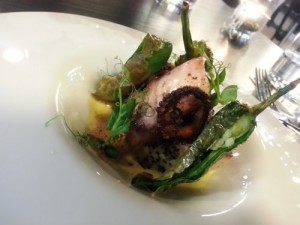 The standout dish of the night was indeed the South American inspired Octopus with garnet yam, 'popcorn' quinoa and sweet corn. To put it crudely, it was basically a popping party in my mouth, and was the most fun my mouth has ever had with food. There was the popping and light crunch of the 'popcorn' quinoa and the meaty and salty quality of a beautiful seared octopus, whose tentacles popped right along with the quinoa. Add the sweetness of the corn and the spice of the lightly seared peppers and you get a wonderfully balanced and creative dish that continues to be fun throughout each bite.
As if this wasn't enough food and beauty and adventure to take in, after our last main dish our table was cleared and we were left a single silver sheet, the chef's modern fine dining take on your every day picnic blanket, a beautiful metallic accompaniment reflecting the glass sculpture in the middle of the room. The chef himself made his way to our table, bringing along with him signs of the ultra-modern food movement.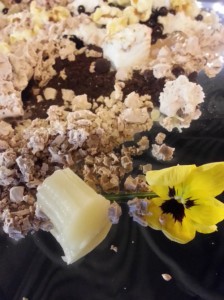 A fog of liquid nitrogen flowed across our table, and a variety of sweets were spilled strategically along the silver mat, including Snickers powder, caramel popcorn, perfectly flamed marshmallows, ground up oreos and homemade gummies. To go along with the chef's 'spilled picnic' motif, there were also peppery edible flowers, crunchy chocolate 'caviar' and of course, the frozen chocolate mousse resulting from the nitrogen. This is the restaurant's famed 'Candy Box,' a Mad Hatter experience – a playfully delicious disaster. Spoons collide in a race to capture a piece of salty and crunchy popcorn, and mouths tingle with sensations from the powders or from the cold mousse in its slowly melting state. I would go to Glass time and time again to try the ever-changing menu, and to forever experience this whimsical dessert that leaves a smile on your face for the rest of the night.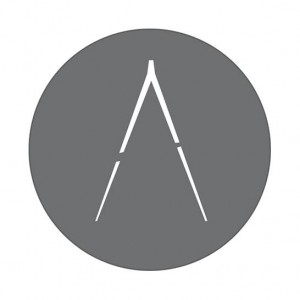 Final Thoughts: Open a mere seven months, Glass and Chef Gal Ben-Moshe have made a lasting impact on the Berlin culinary scene. Chef Ben-Moshe comes from prestigious background, working in London's Maze and Chicago's Alinea, bringing to Glass his new take on fine food in a modern, more casual setting. Ben-Moshe attentively visits the table for each course, explaining his inspiration behind the dish in a way that makes you feel at home. A very special restaurant in contemporary chic building, Glass is perfect for that unique Berlin date or for those who want to experience this poetic city through perfect cuisine.